FAQ - Frequently Asked Questions
Jan 28, 2022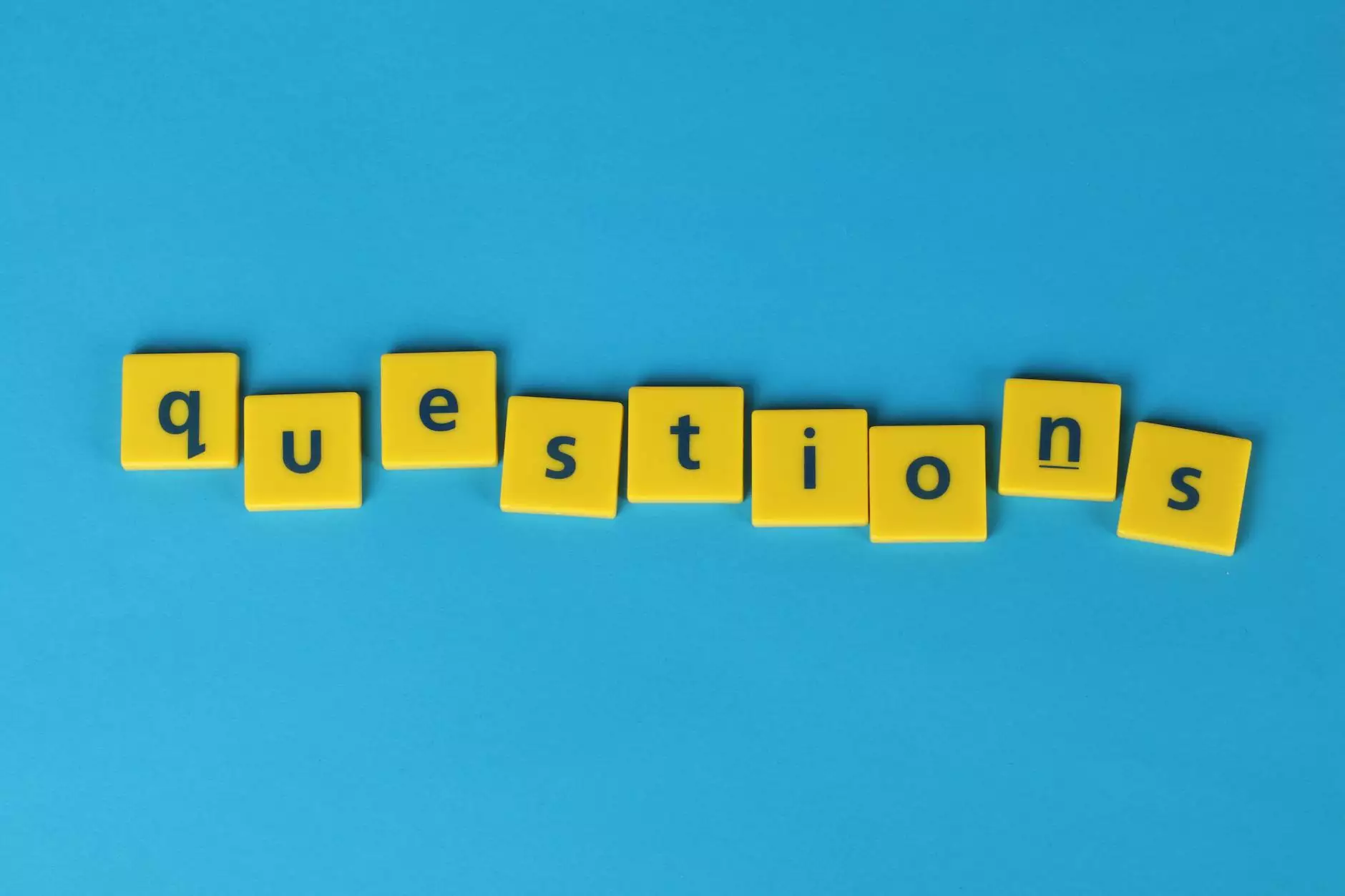 1. What services does Blue Sky Refurbishing offer?
Blue Sky Refurbishing specializes in providing high-end cleaning solutions for various industries. As a leader in the business and consumer services - cleaning category, we offer a wide range of services to meet your needs:
Commercial cleaning: We clean offices, retail spaces, and other commercial establishments.
Residential cleaning: Our expert team ensures your home is spotless and sanitized.
Carpet cleaning: We use advanced techniques to remove stains and bring life back to your carpets.
Window cleaning: Trust us to make your windows crystal clear.
Post-construction cleaning: We clean up after construction projects, leaving your space ready for use.
2. How experienced is Blue Sky Refurbishing?
With over 10 years of experience in the cleaning industry, Blue Sky Refurbishing has established itself as a trusted name. Our team of skilled professionals possesses extensive knowledge and expertise in delivering exceptional cleaning services. We continuously update our methods and equipment to ensure the highest quality standards.
3. What sets Blue Sky Refurbishing apart from other cleaning service providers?
At Blue Sky Refurbishing, we go above and beyond to exceed our clients' expectations. Here are some key factors that set us apart:
Attention to detail: We pay close attention to every corner and surface, leaving no spot untouched.
High-quality products: We use top-of-the-line cleaning products that are safe for both your space and the environment.
Customized solutions: We tailor our services to meet your specific requirements, ensuring a personalized experience.
Reliable and professional team: Our dedicated team is highly trained, trustworthy, and committed to delivering exceptional results.
Competitive pricing: We offer competitive rates without compromising on the quality of our work.
4. How can I request a quote or book a service?
Requesting a quote or booking a service with Blue Sky Refurbishing is easy. Simply visit our website and navigate to the "Contact" page. Fill out the form with your details, including the type of service you require, and our team will get back to you promptly. Alternatively, you can also give us a call at [phone number] or send us an email at [email address]. We look forward to serving you!
5. Are Blue Sky Refurbishing's cleaning practices eco-friendly?
Yes, Blue Sky Refurbishing is committed to environmentally friendly cleaning practices. We prioritize using eco-friendly cleaning products that are safe for both your health and the planet. Additionally, our team is trained in proper waste disposal and recycling methods, ensuring minimal environmental impact. We believe in a clean and green future and strive to contribute towards it.
6. Can Blue Sky Refurbishing accommodate special cleaning requests?
Absolutely! Blue Sky Refurbishing understands that each client may have unique cleaning requirements. We are more than happy to accommodate special requests. Simply let us know your specific needs, and we will work with you to create a customized cleaning solution that meets your expectations. Customer satisfaction is our top priority.
7. Does Blue Sky Refurbishing offer any guarantees?
Yes, we stand behind the quality of our work. Blue Sky Refurbishing offers a satisfaction guarantee to ensure you are happy with the results. If for any reason you are not completely satisfied, please let us know, and we will address the issue promptly. Your feedback and satisfaction are invaluable to us.
8. What safety measures does Blue Sky Refurbishing follow?
Your safety and the safety of our team are of utmost importance to us. Blue Sky Refurbishing strictly adheres to all necessary safety measures and protocols. Our team is trained in proper handling of equipment and cleaning agents to minimize any potential risks. We prioritize maintaining a safe and healthy environment during every cleaning project.
9. How far in advance should I schedule a cleaning service?
We recommend scheduling your cleaning service with Blue Sky Refurbishing at least [number of days] in advance. However, we understand that cleaning needs may arise unexpectedly. Feel free to reach out to us, and we will do our best to accommodate your request, depending on our availability.
10. Is Blue Sky Refurbishing insured?
Yes, Blue Sky Refurbishing is fully insured. We prioritize the safety and protection of our clients, our team, and their assets. You can have peace of mind knowing that we have comprehensive insurance coverage in place. We are a professional and responsible cleaning service provider.
Conclusion
Blue Sky Refurbishing is your go-to cleaning service provider for all your business and consumer service needs. With our extensive range of high-end cleaning services, experienced team, and commitment to quality, we strive to deliver unparalleled results. Contact us today for a quote or booking, and experience the difference that Blue Sky Refurbishing can make in maintaining a clean and pristine environment.